Texas A&M Century Singers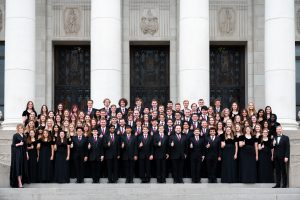 The Century Singers is the premier 100-member concert choir of men and women and is the second oldest choral ensemble at Texas A&M University. The group is a recognized student organization at Texas A&M and is Directed by Mr. Thomas Gerber. We perform a diverse repertoire concentrating on classical choral literature, as well as folk songs, spirituals, popular songs, and show tunes. The Century Singers perform throughout the Bryan/College Station community and the state at campus events, church services, and conventions. Our choir is a close-knit family that connects through a shared passion for music. Members have the opportunity to participate in various social events throughout the year including overnight retreats and activities such as ice-skating, movie nights, and group dinners. Involvement in both social gathering and formal rehearsals brings members together as Aggies, musicians, and friends. This creates a truly unique and rewarding experience that will be remembered for a lifetime.
*Audition for Century Singers*
 Check out our audition information here.
We have performances coming up! Follow @centurysingers on
Instagram
,
Facebook
, and
Twitter
to stay up to date on all of our concerts!