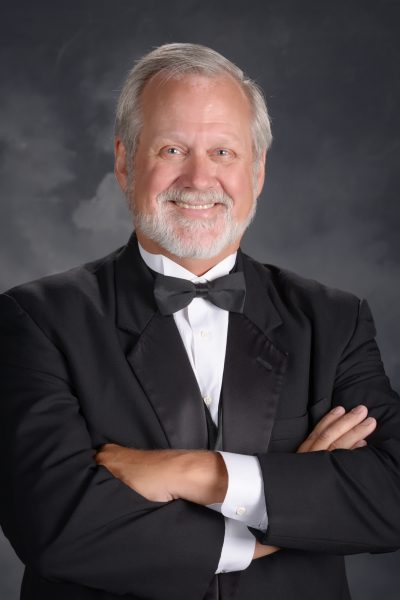 Mr. Travis Angel
Travis Angel is the Assistant Director of Choral Activities at Texas A&M University where he conducts the Century Singers. In addition to his direction at  Texas A&M, Mr. Angel also serves as Minister of  Music at Christ's Way Baptist Church in Bryan. Mr. Angel has a Bachelor of Music Education and Master of Arts in Conducting from West Texas  State University. He has studied and collaborated with conductors Hugh Sanders, Eph Ely, Paul Salamunovich, Bev Hensen, and Ren Clausen.Mr. Angel is an active member of the Texas Music Educator's Association (TMEA), Texas Choral Directors Association (TCDA), Texas Music Adjudicator's Association (TMAA), and American Choral Directors Association (ACDA). He is a frequent adjudicator, clinician, and mentor for choral directors. Travis also served on the State UIL Sight-reading Committee. In 2014, Mr. Angel was the recipient of the TAMU Education & Human Development Dean's Roundtable Outstanding Educator award.
Travis has 40 years of experience teaching choral music in Texas high schools. During this time, his choirs won numerous UIL Sweepstake Awards and traveled across the United States and Europe. Notable performance venues include:
Salzburg Cathedral: Salzburg, Austria
St. Peter's Cathedral: Rome, Italy
St. Mark's Cathedral: Venice, Italy
St. John's Cathedral: New York City
St. Bartholomew's Cathedral: New York City
Cathedral of St Mary of the Assumption: San Francisco, California
Cathédrale Notre Dame de Paris
Awards for performances include Outstanding Festival Awards in New Orleans, Nashville, Dallas, San Antonio, Amarillo, Galveston, Arlington, Kansas City, KS, Tempe, AZ, Enid, OK, the International Award for Choral Performance: Washington D.C and the International Championship High School A Cappella: New York City.
The Century Singers are incredibly blessed with the dedication and passion this man has for our organization and its members. There are two kinds of conductors. Those who use people to make music, and those who use music to make people.