The 2019-2020 Executive Board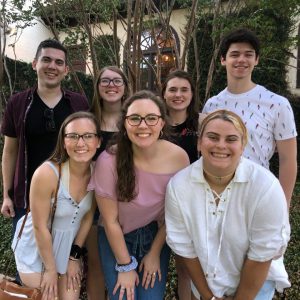 The Century Singers Officer Board is elected yearly to serve both the organization as a whole and each individual member of the choir. They work together to plan and facilitate choir activities, and strive to act as positive role models for members. To contact the Century Singers Executive Board, please email them at centurysingerstamu@gmail.com.
Robby Reyes, President
Senior Industrial Engineering Major
Melody Donaldson, Vice President
Junior Nutrition Major
Tifanie Brannon, Treasurer
Senior Marketing Major
Shelbye Doyen, Performance Manager
Sophomore Architecture Major
Elizabeth Culpepper, Public Relations Manager
Sophomore Nutrition Major
Shelbie Walker, Secretary
Sophomore Kinesiology Major
Webb Rosson, Pollard Representative
Sophomore Computer Science Major
---
Ex-Officio Officers
Ex-Officio Officers assist the Officer Board in management of the logistics of our organization. Without these individuals, our choir wouldn't be able to function. These officers are appointed by the Officer Board based on each individual's application, and are approved by the Director. Each of these officers is crucial to the operations of our choir, and we are incredibly thankful for their hard work!
Galen Gladish, Historian
Caitlyn Sulak, Librarian
Sydney Price, Former CS Liaison
Jonathan Nguyen, Fundraising Committee Chair
Caitlyn Sulak, Soprano Section Leader
Marissa McShane, Alto Section Leader
Bobby Van Pelt, Tenor Section Leader
Layne Scroggs, Bass Section Leader